Live in One of the Best Places in Bangalore
June 23rd, 2019
Also known as the 'Garden City' and the 'Silicon Valley of India', Bangalore is one of the fastest-growing metropolitan cities. It is home to the headquarters of many prominent Indian tech companies and houses several distinguished educational and research institutions. Renowned for its rich culture and history, as well as for providing its residents with a high quality of life, Bangalore has become a preferred residential destination. Areas like Marathahalli, Banashankari, Hennur Road are some of the choicest residential areas of Bangalore. These areas have high-end residential projects, illustrious schools and colleges, modern and well-equipped hospitals, and varied avenues of recreation.
Connectivity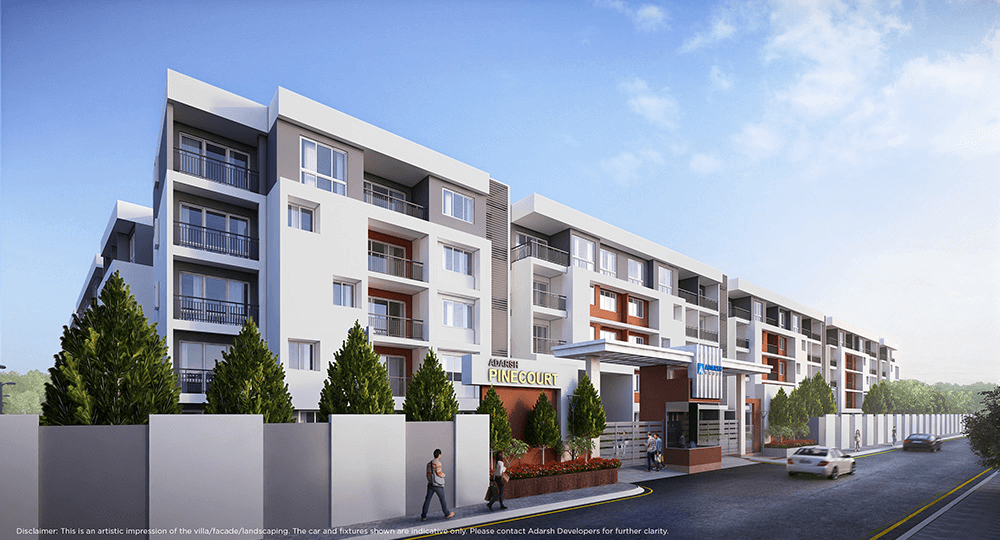 Marathahalli to the east of Bangalore has been transformed into a real estate hub due to the IT boom in Bangalore. It has many high-end residential developments like Adarsh Palm Retreat Villas, a gated community of exquisite villas with a plethora of modern amenities, and Adarsh Palm Retreat Mayberry and Adarsh Palm Retreat Lakefront, apartment complexes offering luxurious 2, 3 and 4-BHK residences. It is located in close proximity to the IT hubs of Whitefield and Electronic City. It has ease of access to most parts of Bangalore through the Outer Ring Road (ORR).
Many business parks are located in and around the area since the ORR is a major IT corridor. Hennur road is one of the upcoming areas of North Bangalore. It is a mere 30-minute drive from the Kempegowda International Airport. It is well connected to other areas of Bangalore by BMTC Volvo bus services. The Manyata Business Park, one of the major tech hubs of Bangalore is located here. Banashankari to the south of Bangalore, extending from Mysore Road to Kanakapura Road, is the largest and most beautiful locality in Bangalore.
The second stage of Banashankari is a swanky area, home to many eminent personalities like Devegowda, Anil Kumble, P.C. Mohan, and Ramesh Arvind. It is the main commercial centre of Banashankari, in and around which many businesses and IT parks are located like Reliance Corporate IT Park, JP Software Park, Mysore IT Park, Rajajinagar IT Park, and Kalyani Magnum IT Tech Park. It is well connected to Whitefield and Electronic City.
Schools, Hospitals, Recreational Facilities
Many popular CBSE, ICSE, and International schools are situated in these areas. While schools in and around Marathahalli include Ryan International School, Gopalan International School, Ravindra Bharathi Global School, and Indian Public School.
These areas have many well-equipped hospitals nearby like Columbia Asia Hospital, Bangalore Baptist Hospital, Cratis Hospital, North Bangalore Hospital in Hennur Road; Banashankari UPHC,  ProMed Hospital, Motherhood Hospital, Excel Care Hospital, and Devagiri Hospital in Banashankari; and Jeevika Hospital, MGA Hospital, Hope Hospital, and VIMS Hospital in Marathahalli.
Banashankari has many old temples, great shopping complexes, departmental stores and all other facilities required for a comfortable life. Adarsh Premia is a luxurious residential development in Banashankari second stage offering palatial living in the heart of the city. Marathahalli also has many malls like Brookefield Mall and KLM Fashion Mall.
The Byg Brewski Brewing Co, situated in Hennur and spread over 65,000 sq. ft. is the largest brewpub in Asia. Many shopping malls are located in the area which includes Bangalore One Mini, Orion East Mall and Elements Mall. Adarsh Pinecourt, Adarsh Wisteria and Adarsh Tranqville are some of the notable residential developments in Hennur Road offering luxurious villas, and modern 2 and 3-BHK residences with state-of-the-art amenities and tranquil surroundings.
With modern facilities and great options for homes available, these areas are perfect for professionals of all ages and income groups to move into. Marathahalli, Banashankari, and Hennur Road are undoubtedly some of the best places to live in Bangalore.