Greener Tomorrow: Eco-Friendly Features to Look for in Apartments for Sale.
August 22nd, 2023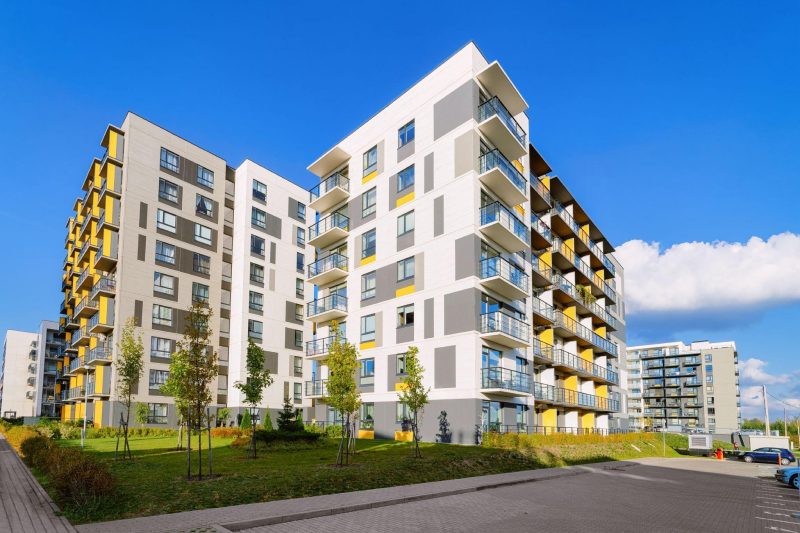 In a time when sustainability and environmental responsibility are becoming increasingly important, the real estate market is adapting to provide housing options that prioritize both comfort and environment conservation. 
From energy-efficient appliances to green building certifications, we will delve into the elements that make a difference in reducing your carbon footprint while enhancing your daily life. Join us as we uncover innovative designs, cutting-edge technologies, and thoughtful practices that revolutionize apartment living, creating a harmonious coexistence with nature. 
The advantages of eco-friendly apartment living are not limited to the apartments' benefits. Apartment communities now offer a wide range of sustainable amenities in addition to the usual facilities such as pools & gyms. One such amenity is the convenience of doorstep trash and recycling pickup, which requires minimal effort on the part of the resident and encourages sustainable practices. 
Moreover, the availability of electric car charging stations is increasingly becoming a standard feature in many apartment communities. 
Sustainable Building Designs 
In today's scenario, many newly constructed apartment buildings prioritize sustainability by incorporating environmentally friendly materials and design practices. Instead of using new materials that harm the environment, these buildings use brick and recycled or reused wood. Another sustainable approach is to increase the size and number of windows in a home, allowing for maximum utilization of natural light. This reduces the need for artificial lighting in the apartments. 
In addition to its eco-friendly benefits, sustainable design can also be cost-effective. Apartments with roofs featuring high solar reflectivity indexes effectively reflect solar heat, resulting in lower interior temperatures. This reduces the reliance on air conditioning, leading to lower energy usage and cost savings for residents. 
Smart Tech Integration in Apartments 
Not only is smart technology popular among younger renters, but it also offers significant environmental benefits. Eco-friendly features such as LED lightbulbs, motion detectors, and adjustable lights are highly sought, along with energy-efficient washers, dryers, and dishwashers. 
These technologies not only reduce energy usage but also help lower utility costs. Additionally, incorporating low-flow sinks, toilets, and shower heads in apartments minimizes water waste and reduces water bills. These innovative solutions provide the convenience of automation while promoting energy conservation and sustainable living. 
Water Efficient Fixtures & Rainwater Harvesting System 
The apartment units come with low-flow faucets, showerheads, and toilets, ensuring optimal water usage without compromising functionality. 
Further, the eco-friendly apartments incorporate innovative rainwater collection systems that can utilize stored rainwater for landscape irrigation, significantly reducing the need for potable water and helping to preserve this valuable resource.
Adarsh Greens- The Approach For Eco-Friendly Measures 
Adarsh Greens Apartments bring you a new lifestyle that embodies the values of trust, quality, and consistency. Step into a world filled with natural beauty and lush greenery, with over 70% open spaces. At Adarsh Greens, we have meticulously designed and engineered our homes to blend modern living with nature through our sustainable features seamlessly. 
Our apartments boast state-of-the-art infrastructure blended with innovative technology, ensuring you enjoy the highest standard of living.
Some of its highlights include: 
Best & Eco-friendly amenities 

Clubhouse facilities 

Over 74% of open space for navigating the fresh air

Natural light and air at any cover 

HVAC systems 

Water conservation system 

Efficient use of living space

Smart technology integration 
Summing It Up 
Adarsh Greens is a shining example of the real estate market's commitment to sustainability and environmental responsibility. Adarsh Greens offers a new lifestyle that seamlessly blends modern living with nature by prioritizing comfort and environment conservation. 
With over 70% open spaces and meticulous design and engineering, these homes coexist harmoniously with the environment. Adarsh Greens' commitment to eco-friendly measures is a testament to their trust, quality, and consistency values. By embracing innovative designs, cutting-edge technologies, and thoughtful practices, Adarsh Greens revolutionizes apartment living, reducing carbon footprints while enhancing daily life.
Know more about the Adarsh Greens apartments on the official website.