Why Banashankari is the Best Place to Invest in Real Estate
July 12th, 2019
Bangalore has made a huge leap from being Karnataka's capital to India's IT capital. The convergence of skilled labor, employment opportunities, and economic activities have resulted in the stellar development of the city. Currently, Bangalore ranks third in the list of most populous cities in India. Quite naturally, economic expansion and migration trigger the race for resources.
Among all the basic necessities, property acts as a luxury that offers stability and a solid return on investment.
Banashankari: An Overview
Located in South Bangalore, Banashankari is a residential area that is swiftly developing. There are nearly 50 to 60 residential projects that are currently underway!
Banashankari is a melting pot, with the famous Banashankari Temple located in its vicinity and modernization of the surrounding areas like Jayanagar. It is the largest locality of Bangalore and is divided into six stages. Amongst the six stages, the sixth, which is Vajarahalli, is the largest and is divided into 11 blocks.
Banashankari enjoys a number of facilities due to its strategic location. Here are some factors that make Banashankari a lucrative real estate investment opportunity:
Accessibility
The Kempegowda International Airport is located 42km from Banashankari, while the Bangalore City Junction is just 6km away.
Connectivity
Due to its proximity to the Outer Ring Road (ORR), Banashankari is excellently connected to other parts of the city. For those looking for public commute options, a number of Bangalore Metropolitan Transport Corporation (BMTC) buses ply from Banashankari to other major regions. Furthermore, the Green Line of the Bangalore Metro, Namma Metro, runs between Puttenahalli and Nagasandra makes Banashankari connected to all the major locations in Bangalore.
Employment Avenues
The various employment hubs that are located near Banashankari, are:
Koramangala via ORR.
Wipro Corporate Office via Outer Ring Road.
Electronic City via Hosur Road / NICE Road.
Global Village via Mysore Road.
Kalyani Magnum via JP Nagar.
Schools and Other Institutes
Banashankari has some of the most reputed schools of Bangalore. The various educational institutions include:
Sri Krishna International School.
Martin Luther Public School.
JSS Public School.
Websters High School.
Sri Aurobindo Memorial School, and
Little Flower Public School.
Institutes for higher studies in Banashankari are:
PES University.
Kempegowda Institute of Medical Sciences.
Institute of Business Management And Technology.
BNM Institute of Technology.
Gupta College of Management And Technology, and
ICFAI.
Hospitality, Retail, and Entertainment
Those looking to tickle their taste buds can visit restaurants in JP Nagar & Banashankari to try out a wide range of cuisines. On the other hand, party-goers will like the vibrant nightlife offered by various pubs, lounges, and bars
Established hotels and serviced apartment facilities are also available here.
As for retail, apart from stand-alone stores offering Indian and global brands, the Gopalan Mall is a one-stop shopping center for all your needs. Various supermarkets and shopping complexes dot the area.
In addition to parks and recreation centers, there are numerous entertainment venues.
The high degree of connectivity, coupled with an array of infrastructural amenities makes Banashankari an attractive option for home-buyers. The green cover, wide roads, and uninterrupted water and electricity supply makes it an ideal residential destination for all individuals.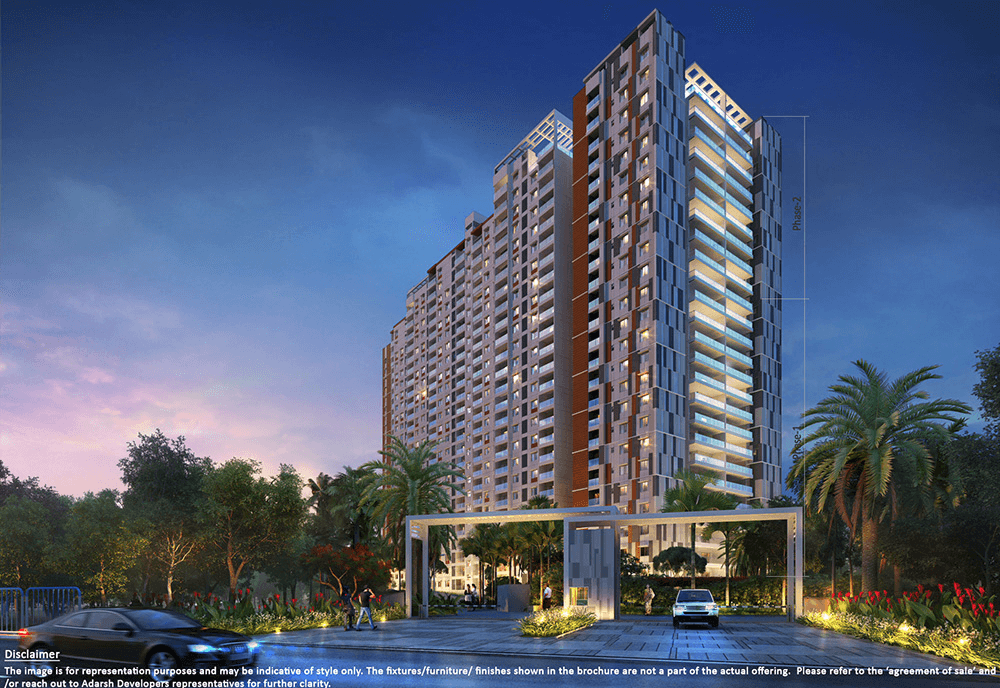 Investing in an area as perfect as this cannot go wrong! Adarsh Premia by the Adarsh Group is designed to pamper all your senses complete with amenities and refined luxury for those who understand the nuances of fine living.