Own Your Dream Villa in North Bangalore
November 24th, 2017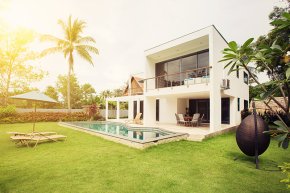 A decade back, if you had asked Bangaloreans to invest in real estate properties in locations like Devanahalli and Thanisandra Road, they would have probably mocked at it. Today, an apartment in Thanisandra costs Rs. 5000/- per square-feet. Isn't that unbelievable? But, it's the fact.
Over the years, after the Devanahalli airport became operational, some parts of North Bangalore have seen drastic development, while some parts are still trying to retain the old culture.
Now, if we take North Bangalore as a bigger umbrella, there are different locations that come under it—Devanahalli, Yelahanka, Hebbal, Bellary Road, Hennur Road, Doddabalapur Road, Peenya and Thanisandra Road. Places like Devanahalli and Thanisandra Road were earlier Taluks that were considered to be small areas located far away from the main Bangalore city. Now, with the progress of time and the city expanding steadily every day, Hennur Road, Devanahalli and Thanisandra Road—all come under the city extension.
If you prefer the old Bangalore charm, then you can choose areas like Sahakar Nagar, Sadashiv Nagar and Sanjay Nagar. These locations are posh and upmarket. However, the younger crowd today prefers to move more towards the suburbs such as Devanahalli, Yelahanka, Bellary Road, Hennur Road and Doddabalapur Road to live a better, laid-back and noise-free life.
Currently, North Bangalore has seen excessively high amount of residential developments. Many top real estate developers of India are building prime villas and high-end apartment blocks with all the major amenities to attract buyers.
From the time Bangalore International Airport shifted to Devanahalli in 2008, there has been a rapid development in the social and physical infrastructure in and around this area. Soon after this, a number of IT parks were established around these areas. Tech parks such as Manyata Tech Park and Kirloskar Business Park host numerous companies. Professionals working in these business parks would obviously prefer to commute from their homes to their offices as quickly as possible. The close proximity of IT corridor has prompted real estate developers to rush in to invest in these areas.
Add to this entire scenario the construction of the metro lines connecting airport to the city. In mid-2017, the government sanctioned the city's metro link from Bengaluru International Airport to Nagawara through Hegde Nagar, Jakkur and Yelahanka. This 28 Km stretch will run through NH44 and will mainly connect Kempegowda International Airport to MG Road. There is also another possibility of connecting the 17 Km Outer Ring Road line to Airport stretch.
North Bangalore still boasts of a vast stretch of greenery that is seldom found in large cities. You can always imagine your dream home in a gated villa community with individual parking space and all the modern amenities. Apart from having access to good schools, hospitals and shopping malls, you can also take a stroll in the landscaped gardens within the community or even practice your gardening skills in the backyard of your villa.
Top builders are now investing on building 3 BHK to 5 BHK villas. These gated villa communities have landscaped gardens, jogging tracks, club houses, community halls, swimming pools, kids' play area, ample parking facilities, and so on. The villas are structured to give home owners privacy, while also ensuring that they feel they are a part of the community. Situated amidst lush greenery, these villas are close to prime locations such as tech parks, schools, hospitals and shopping malls.
Usually structured as duplex or single storied villas with area in the range of 3000 sq-ft. – 6000 sq-ft., they come with elegantly styled layouts with adequate parking space and individual gardens. The rooms are well-ventilated to bring in maximum amount of natural air and light. Generally, professionals working in the nearby business parks prefer these developments.
Moreover, the new 8-lane expressway connecting the main city to the Bangalore International Airport provides easy access to city dwellers. Since 2011, the entire locality of North Bangalore, especially Hebbal, Palace Grounds and Yelahanka has seen a hike of almost 59% in real estate property value. This entire belt is witnessing a huge growth of high-end apartment complexes and beautiful villas.