How Bangalore Metro Is Reshaping Property Purchase Decisions?
November 24th, 2017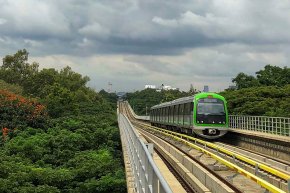 Travelling in metro trains has always been a great option for any city dweller to commute. Metro rides are faster, affordable, pollution-free, and to some extent far more comfortable than bus or local train rides.
The main objectives of metro line construction in the city are to:
Create better connectivity

Reduce traffic

Provide convenience to commuters
Keeping these objectives in mind, the construction of Namma Metro in Bangalore began way back in 2003 and continued with a number of halts and delays in between. Finally, the rapid transit system began its official operations from October 2011. Currently, the Purple Line and Green Line cover a distance of over 35 Kms across 41 stations.
The Purple Line connects Baiyyappanahalli to Mysore Road, whereas the Green Line connects Nagasandra to Yelachenahalli. The Red Line from Gottigere to Nagawara, the Yellow Line from RV Road to Bommasandra and the Blue Line from Silk Board to K.R. Puram are under construction.
During the construction phase, the local residents faced massive traffic jams and road congestion. However, once the metro operations started, the city dwellers breathed a sigh of relief as they experienced the ease of commuting in metro trains.
With metro lines coming up across different parts of the city, one of the most impacted sectors is undoubtedly real estate. Lands that were earlier lying barren started seeing the construction of high-rise buildings. People started preferring to buy homes near major metro stations as it helped them commute easily. From the time the construction of metro lines were announced, property prices surged up by 50% to 70% in some places.
Top real estate developers now prefer to build villas or high-end buildings around the metro lines to attract more propery buyers. With the inauguration of M.G.Road to Baiyappanahalli metro line, the prices of a number of high-end apartments went up in and around Indiranagar. There was an increase in the sales of houses by 20% around these areas. In Indiranagar, houses are now priced in the range of INR 10,000 – INR 12,000 per sq-ft. Commercial properties also didn't lag behind. With the launch of metro, a number of investors started investing in commercial properties around metro stations.
Many top schools, colleges, hospitals and shopping malls are located along the tracks. This has changed the face of real estate around these locations. As per a recent study conducted by environmental planning and technology, the construction of metro lines impacted the sale of residential properties lesser than that of commercial properties. For example, commercial buildings that are within 500m radius of metro lines have seen an increase of 19% in the land value when compared to the land value of residential buildings that has increased by 11%.
Namma Metro claims to bring about a vast development in areas like Yelahanka, Hesarghatta, Puttenahalli, Electronics City, BTM Layout and Nagavara so that it becomes easier for people to commute within the city.
Places like Indiranagar, Shivaji Nagar, Austin Town, Viveknagar, Richmond Town, Baiyappanahalli, Ramamurthy Nagar, KR Puram, CV Raman Nagar, Thippasandra, Ulsoor, Dickenson Road, Commercial Street and Lavelle Road are witnessing a major development in the real estate market after the metro lines came up.
Real estate experts are of the opinion that once all the lines become fully operational, there will be a huge change in the entire real estate setup. A lot of buying and selling is predicted around these metro tracks. But, only time will tell how far the prices will go up and how much the city dwellers will be ready to invest.