Weigh Well in Advance before Committing to a Gated Community Home
November 24th, 2017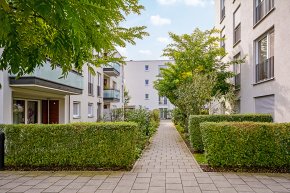 Planning to buy a flat or a villa in a gated community? You will get loads of options in your city. However, before you take the final decision of purchase, you must evaluate the pros and cons of living in a gated community; especially if you are used to staying in an independent villa or a bungalow or even in a builder floor apartment. Given below are few important pointers that will help you make that purchase decision.
Pros & Security
When you think of gated communities, what does exactly come to your mind? The term speaks for itself. The place where you are staying is gated and secure. There will be security guards 24/7. Most gated communities have access to CCTV cameras and consider this as a necessity and not a luxury. The bigger the gated complexes higher the arrangements will be for security. The guards in uniforms from reputed security companies are hired to ensure 100% safety of the residents. Rest assured, you can be at peace that your kids are safe while playing in the gated areas
Privacy
As the name suggests, a gated community gives you ample opportunity of a private life. Once you are inside the gates of your apartment complex, you are detached from the rest of the world. You can lose yourself in your own little world. Whether it is the jogging tracks, the swimming pools, the kids' play areas or the community building—all are private properties. This gives you a feeling of exclusivity—something you can access at your own time and leisure.
Clean & Eco-friendly
Everyone wants a clean and serene environment to stay. Most communities these days offer pollution-free living. They offer gated communities that are free from noise pollution and air pollution. Most of these places are lined up with trees and plants to ensure there is clean air around.
Sense of Community
Owning a flat or a villa in a gated community means you belong to a community itself. You meet people daily and enjoy the company of your fellow neighbours. Most of the time these communities celebrate public holidays such as Independence Day, Holi, Diwali, Dassera, Christmas together in the common areas. Apart from this, they also have block parties, yard sales, annual sports events, picnics, fetes, potlucks and other such events. You meet people and enjoy each other's company and form your own sense of community.
Inside Parking
This is one of the major points why people are shifting to gated communities. You get ample space to park your vehicle specifically allotted to you—something that is a must these days. Homeowners are allotted parking as per their requirements.
Cons
Gated communities have few drawbacks that can be considered before you make up your mind.
High Maintenance
The moment you invest in a gated residential community, you should be ready to invest in a host of other regular flow of expenses. This includes regular payment of maintenance that is an additional cost charged by every community to maintain the common areas, pay for the security, and so on. Most of the communities charge between Rs. 1000 to Rs. 6000 per month depending on the amenities offered by the residential complex. The more the amenities more are the charges. Sometimes the developers would charge you a 10-year annual maintenance while you are purchasing the flat. These additional costs per month might affect your normal monthly budget.
Restrictions
To maintain decorum, most of the gated communities have set restrictions on when to use the swimming pools, the speed limit that is allowed within the community, limitations on loud music after certain hours and seek other necessary permissions, etc.
Everything has its own set of pros and cons. You need to be a better judge of the situation and then commit to a gated apartment.