Top locations around Bengaluru International Airport to invest your money in
October 29th, 2017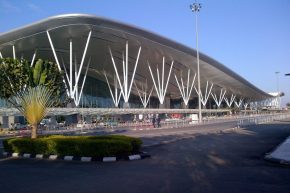 Kempegowda International Airport or Bengaluru International Airport is the third busiest airport in India in terms of passenger traffic, after the ones in Delhi and Mumbai as on 2016. It is also Karnataka's first fully solar powered airport. It was started in 2008 to decrease congestion in the HAL Airport. It is located 40 kms north of Bengaluru near the suburban village of Devanahalli. It is named after Kempe Gowda I, the founder of Bengaluru.
Thanks to the presence of Kempegowda International Airport, the localities surrounding it have seen phenomenal growth in the real estate sector in the recent years. Hence, investors feel it's prudent to invest in regions surrounding Kempegowda International airport. Few of the top noteworthy areas are Devanahalli, Yelahanka, Hebbal, etc. Let's have a look at those areas.
Devanahalli: The Kempegowda International Airport is located about 5 kms south of Devanahalli. Hence, this region is one of the fastest growing areas in Bengaluru. It's fast becoming a prime real-estate destination for various reasons. Devanahalli Business Park, with two IT Parks coming up on 400 acres adjoining the airport is all set to fuel the real estate growth in the region. This area also houses a number of reputed schools, hospitals and shopping malls, thus making it one of the best places to currently invest in real estate. Various infrastructure related activities are in progress such as construction of metro connectivity and creating a new satellite ring road to link Devanahalli to Doddaballapur that will fuel the real estate growth in the region.
Yelahanka: Located at a distance of 20 kms (approximately), Yelahanka was earlier considered as a suburb of Bangalore. Lying in the northern part of Bengaluru city, Yelahanka is slightly elevated from the rest of the city due to which lot of lush greenery can be observed. Once a forgotten town, Yelahanka now is on the verge of becoming a prime real estate hub. With three of the major lakes in close vicinity and NH7 passing through the town, Yelahanka is definitely a place to look for your dream home.
Hebbal: It is around 30 kms away from the Bengaluru International Airport and houses one of the top tech park named Manyata Tech Park, where most of the major IT companies hosts their offices. Hence, IT professionals working at Manyata Tech Park would obviously prefer to own homes in this area. Real estate has seen a tremendous boom in this area in recent times. A web of flyovers at Hebbal, connecting the Outer Ring Road and National Highway 7 has also led to the surge in the growth of real estate in this area. It is a good location to invest one's money as the area is expected to see more growth with new companies springing up around its vicinity.
Sahakar Nagar: Sahakar Nagar has recently blossomed as a prime suburb of Bangalore, and lies close to prominent localities like Hebbal, Vidyaranyapura and Kempapura. It is a good deal for investors looking to buy projects in this area as prices are set to go north in future. The location is away from the noisy city centre, yet strategically located, with proximity to the Bangalore International Airport. The location together with its good social infrastructure makes Sahakar Nagar a potential for providing a good return for real estate investments. Many residential projects are under construction in this area and it is soon to become one of the most favoured residential destinations for investment in Bengaluru.
Sanjay Nagar: Approximately 30 kms from Kempegowda International Airport, Sanjay Nagar is one of the prominent localities of Bengaluru city. This part of the town hosts old-world Bengaluru. Therefore, many company professionals prefer quaint places away from the hustle of the city. On its left side is the NH7 that easily connects the residents to the Kempegowda International Airport. It is also easy for the residents to commute to the top engineering colleges and prominent hospitals of the city. Regarded as one of the posh locations of Bengaluru, Sanjay Nagar has always been a real estate hub since the late part of seventies.
Sadashiv Nagar: One of the most upmarket locations of Bengaluru, Sadashiv Nagar is part of the northern suburbs. Well-known for its serene and peaceful locality, Sadashiv Nagar is one of those residential areas of Bengaluru where the commercial activities are relatively less compared to the other parts. If you take a stroll down the inner lanes of the neighbourhood, you will find independent bungalows with bougainvillea trees. Sitting adjacent to Malleshwaram, Sadashiv Nagar still holds the old-Bangalore charm intact. Running from Mehkri Circle to Bashyam Circle, the locality borders Sankey Tank—a major attraction to the city dwellers. Many notable residents stay in this upscale location. Sadashiv Nagar is one of the most expensive location to invest for real estate. Currently, the property value is going between 10,000/- sq.ft. to 25,000/- sq.ft.
Since the IT boom and the setting up of Kempegowda International Airport, its nearby areas have seen a major spike in real estate growth, leading to a lot of investment in the region. Hence, the above-mentioned areas are ideal to invest and gain some productive returns in the future.