The State of Luxury Homes Market in India
December 27th, 2017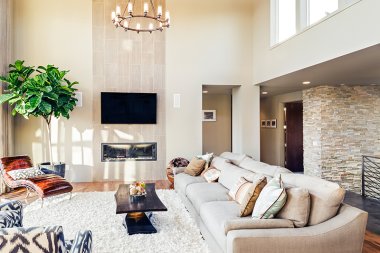 Over the last two years (from 2015), the real estate market in India has been seeing differing situations as it climbed up and down the charts, consistently. But the one segment that has been more or less steady, except for a brief time after demonetisation, is the luxury homes segment. There are several factors driving the luxury homes market in India even as the segment looks to move ahead in terms of growth.
Trends that are driving the growth
Economic Growth: The GDP report for the last quarter (September, 2017) has shown rebound with a 6.3% growth from 5.7% over the previous quarter. As the economy looks to recover and move ahead, the per capita rate has a steady climb resulting in an increase in spending income. This leads to an increase in the base of people who can afford luxury homes.
Personal Wealth: As per a recent report, the number of millionaires ($ Value) in India stands at 2.36 lakh (2015) with a 55% increase from 1.52 lakh (2007). These statistics speak about the massive growth of the high and rich class segment, a category that is a potential customer base for luxury homes. India has the fourth highest millionaires in Asia Pacific region with a combined wealth of $1.5 trillion and people with liquidity are pushing for the growth of luxury homes segment.
Exposure to Luxury Concept: More Indians are being exposed to luxury homes concept thanks to various project initiatives taken up by some of the premier luxury homes developers. Another factor for the increase in awareness levels is the exposure to luxury homes obtained through foreign trips. They experience a stay in overseas luxury homes prompting them to own one in their home country.
NRI Influence and Investment: Non-Resident Indians with access to money and experience of luxury homes are one of the main investors in luxury homes segment. In fact, NRIs are both investors and buyers. While some infuse cash into India based developers to obtain a stake, others are happy to buy a luxury home either for themselves or for their families who stay in India.
''A recent report suggests that due to changing economic and social conditions, some NRIs are home bound, and this is yet another factor driving luxury homes market in India.''
The future of Luxury Homes
The confidence in the growth of luxury home market was shown by the launch of 45,000 luxury units in the top 9 cities in the year 2016. This constituted almost 21% of the total residential launches in these places. In a country that largely requires basic and affordable housing this number signals where the luxury home segment might be headed towards in the coming times.
Interestingly, Bangalore leads with about 30% of the total luxury home launches and about 29% of unit sales, showing that the city is highly balanced in terms of demand and supply of luxury homes. Mumbai comes in second with 17% of total launches and 16% of sales.
There was a brief pause during and after the demonetisation where for a few months buyers held back and hesitated. This was largely because in India, cash exchange is a major way real estate dealings take place and due to the ban on big currency denominations, buyers restrained themselves from carrying out big investments.
The future, however, looks good as the segment anticipates a rise in offerings since major developers are betting their time and investments on luxury homes market in search of higher profits. Investors from India and abroad are confident about the segment's growth and are inclined to infuse funds to initiate projects. Developers, however, are a little wary now, as they take future projections with caution and purely based on demand and not on hope.
The concept of 'build and sell' has gathered attention and importance as buyers would want to 'touch and feel' and have a first view of what they are buying. This makes absolute sense because from buyers' point of view they get a finished and ready-to-move into product. As for the developers, their planning and execution need to be perfect to help speed up completion.
Over the last few months, the demonetisation effect has worn out and buyers are once again bracing themselves up to own luxury homes. Another major reason for the segment's steady growth is the ability and profile of the buyers. Unlike buyers of the affordable or basic unit segments, luxury homes buyers do not depend on loans and support of financial institutions for a purchase, they self-fund the purchase.
The concept of luxury homes in India is spreading fast and far, it is becoming more democratic as it pushes itself across various sections of the population in a bid to attain a larger buyer base without compromising on its ''niche'' value. As the economic situation in the country improves more buyers are lining up to book their luxury homes. This is good news for both developers and investors as luxury homes give the maximum ROI and high net profits. From the buyers' point of view, they get to live in expensive homes with world class amenities and a prestigious address or locale in the city to be associated with.