Palm Meadows – A Perfect Blend of Aesthetics and Luxury
May 13th, 2020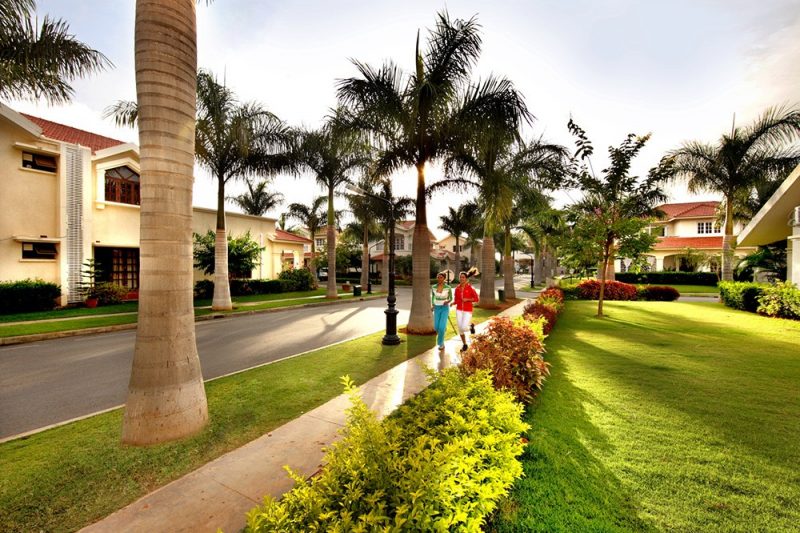 Adarsh Palm Meadows is a unique and perfect blend of exquisite luxury and contemporary design. This residential property located in Varthur Road of Bengaluru is replete with world-class amenities which contributes to an extremely luxurious lifestyle. The beautiful aesthetics and the lush green surroundings make it a perfect abode for the modern urban dwellers.
Palm Meadows consists of beautiful Victorian style villas that are spread across 100 acres of land, giving a very utopian vibe. The elements of nature coupled with the luxurious and premium design appeal to the urban dwellers. The location of the property is also a huge advantage for the residents as it is in the vicinity of the city while being nestled in greenery and beauty. Along with the lush green surroundings and warmth, the property offers a large number of indoor and outdoor amenities like swimming pool, gymnasium, clubhouse, banquet hall, tennis courts, and many more.
A Blend of Aesthetics and Luxury:
Adarsh Palm Meadows offers residential units that are super luxurious and offer an unparalleled living experience. The opulence and sophistication that has been built into the property include state of the art technological appliances, contemporarily designed living and dining spaces, modern restrooms, and plenty of other structural and design elements.
The sense of aesthetics that each of these Victorian villas has its unique and curated to suit the tastes of modern residents. Bengaluru being a Silicon Valley of India tends to get very hectic and offers a lifestyle that is very sedentary and occupied. The Adarsh Palm Meadows, with its pleasing and subtle aesthetics, offer a respite from the din and bustle of the city.
These residential units consist of state-of-the-art infrastructure, and amenities, whether you want to convene an urgent conference or hold an elaborate meeting, Adarsh Palm Meadow has just the perfect venues for all events. Ranging from libraries, and conference halls, to recreational units like banquet halls, Palm Meadows have it all.
Modern mix of Glade and Garden
Complete with all the modern perks perceivable, the villas of Palm Meadows offer a superior lifestyle and exceptional experience. These include gymnasiums, table-tennis courts, squash courts, aerobics hall, jogging tracks, swimming pools, etc concentrating on physical health and well-being. On the other hand, amenities like spa centers, meditation centers, health clubs, etc concentrate on mental health and well being.
Other sets of amenities that cover the cultural and recreational aspects of a great lifestyle include a banquet hall, restaurant, bar, restaurants, poolside conference halls, and many more.
So that was a small tour of the Adarsh Palm Meadows, which offers a perfect blend of serenity, luxury, and a supreme sense of aesthetics. The lush green surroundings naturally ventilated villas, and the overall serenity and tranquility of the location make it a perfect abode for anyone looking.
RERA No.:  PRM/KA/RERA/1251/446/ PR/170915/000476