Living life king-size: A host of lavish living at Palm Meadows.
July 9th, 2020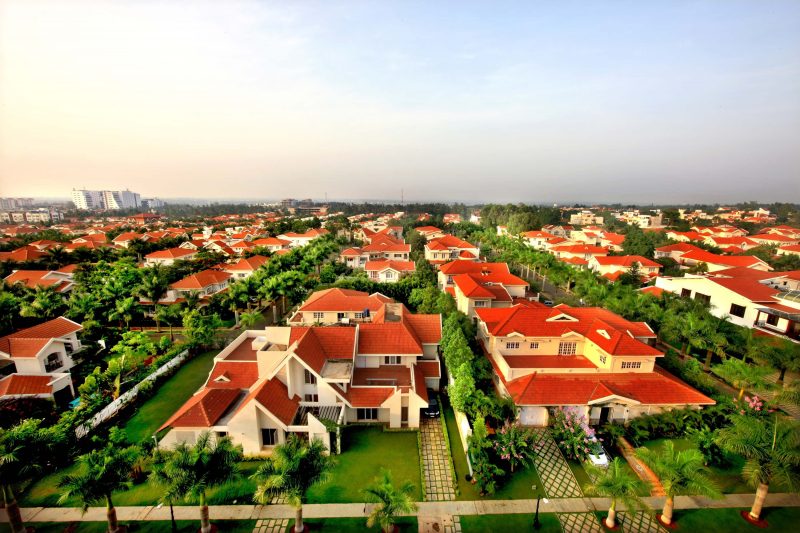 Architecture should speak of its time and place but yearn for timelessness- Frank Gehry. Perhaps, yes. Adarsh Group have made a successful attempt to recreate the Victorian era on the lanes of Bengaluru and thus, gave the best of both worlds. A homecoming of Victorian architecture in the 21st century needs a tweak of modernity, and if you are looking for such a blend, then Palm Meadows is the perfect option for you.
At the cusp of history and present stand the royalty abodes, Palm Meadows, which houses 570 villas with a Victorian essence, spread across 100 acres of land conjoined on Varthur Road in Whitefield, Bengaluru. In the zone of technology, Palm Meadows can compel anyone to stumble upon the grandeur of lavish villas, which have trestles of modern comfort supplemented by technology.
Lavish intersections, living in style.
The intricate design has been laid out with an urban mindset to make the niche well-suited for a comfortable living. Jutted inside East Bangalore's Whitefield, Palm Meadows, a residential project, was constructed with a conventional gothic touch having large and imposing double storeys. Symmetrical, decorative, trimmed, 'Gingerbread' 570 units are well-paced across the locality. They are a villa set of 3 & 4 BHK units.
The beautiful perennial meadow is dissected into well-maneuvered mansard roofs. But, Adarsh Group have surpassed the myopic architectural denture by letting the technology scintillate in the midst. With eco- friendly landscapes and paved compounds, palm meadows engulf services in plenty. From day to day needs to recreational activities, all have been provided within the villa premise.
Palm Meadows: An enhanced definition of a housing society.
Adarsh Group offer an earnest community existence under their Palm Meadows project, where the in-house community is serviced at every level. Facilities are provided so as to complement modern living with segregated sections for sports, Fitness, entertainment, and socializing, thus not letting their suitors compromise on any aspect of the new age living while they reminisce in the garb of elite comfort.
The Aerobics center is at a turn with the conference room. Thus recreational needs are stuffed around the professional ones. Other amenities like swimming pools, jogging tracks, lawn tennis, and Badminton court, to name a few. These tough times have taught us all the value of a self-serving society; and perhaps, Adarsh Group have anticipated the need and went on to provide value-added services like grocery stores. So, one can have access to groceries and other products required on a daily basis with a few steps.
Palm Meadows: A family home.
Don't buy a house but make a home, the welcoming ambiance of the Palm Meadow stands true to it. It is the right place to grow old, or value your collected over-the-years experiences while sitting on the porch. Towering buildings are not favoured by everyone, and concerning Palm Meadows, it is just the opposite; it is a place where grandparents can revelry their childhood with their grandchildren. It is a project for those who want more than a home, where living is blended with super living needs.
Adarsh Palm Meadows Extension – RERA No. : PRM/KA/RERA/1251/446/ PR/170915/000476