The Co-living spaces market in India – An overview
March 19th, 2018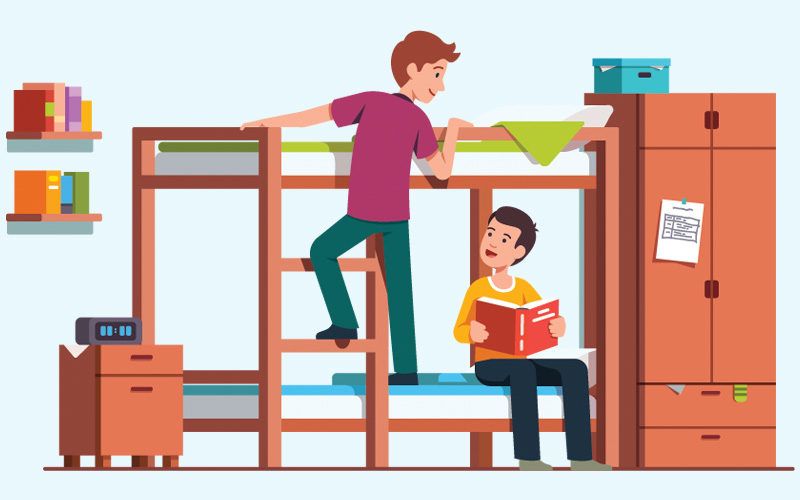 Millennials are changing the business dynamics of real estate in India by pushing for the growth of Co-living spaces even as the working class looks for affordable, comfortable and flexible home living options.
World over, the millennial demographic has been in the news for playing an influential role in shaping of certain business sectors and residential real estate in one such sector that is being influenced by this demographic. The sector has been undergoing a change in dynamics over the last couple of years thanks to lifestyle and living habits of the millennials. In fact, the demographic has given rise to the presence of Co-living spaces.
What's boosting the rise of Co-living spaces?
Have you ever wondered as to why and how co-living has been getting so much prominence and preference over the last few months? Some interesting factors have been pushing for further growth in Co-living spaces in India, let's observe some –
Experience over Ownership: Millennials are more about having experiences than about possessing assets, they like to go through various experiences and look for fun-filled, sociable and flexible stay options. This outlook from millennials leaves less emphasis on purchasing or owning of a home while opening up the scope for living on rent. Nowadays, millennials believe in the philosophy of an enriched living and lifestyle that involves time, energy and money spent on various experiences that provide them with happiness and comfort. Co-living helps provide most of these experiences with much lesser spends.
To those locked out of the residential market, the arrival of co-living offers an affordable solution to their needs: an alternative to staying in the family home, sharing a rental unit, or living in a subdivided flat
– Denis Ma, Head of Research, JLL Hong Kong
Affordable Living: Properties have seen a dramatic increase in prices which is making it even more difficult for buyers to own homes. This is especially so in big cities and metros where the demand for land and property and urbanisation have contributed to the rise in property rates even as developers look to gain better yield or percentage through property sales. It has become difficult to afford a home and this is especially so for millennials whose income and spending is limited. This has also led young professionals to prefer renting out Co-living spaces that are more flexible and comfortable to stay in than purchasing homes.
Amenities and Facilities: Every resident desires a well-maintained place and a variety of amenities and facilities to ensure better living standards. Co-living comes with more amenities or facilities than a typical single or double bedroom apartment does. Beyond having a well-furnished kitchen, dining and bathroom areas, a Co-living space provides occupants with modern requirements such as Wi-Fi connectivity, Satellite TV with latest movies and various workshops catered towards enhancing professional and personal lives.
Viable business proposition: Co-living spaces provide a viable business proposition for both developers and residents. Reports suggest that Co-living spaces, in general, provide developers with around 12% rental yield while saving about 30% on rentals for the occupants. This is so because the space utilisation in a Co-living space is much higher than it is in a typical single and double bed-room apartment and the aspect of having common shared spaces such as kitchen, dining and living rooms ensures cost savings.
Need for Socialising: Perhaps, the most important driving factor for Co-living spaces is the need for sharing and caring. A WHO study indicated that people with depression have increased by 18.4% between 2005 and 2015 speaking for the impact of lifestyle on physical and mental health. These figures are higher in the busy metropolitan cities of the world owing to various factors. Co-living plays a significant role as far as minimising loneliness is concerned and makes for a better living. It brings about more socialising and togetherness and reduces chronic loneliness that is often found amongst the millennial population.
Market Dynamics of Co-living spaces
Many developers have realised that providing affordable accommodation while ensuring presence of relevant facilities is the way to an increased growth under the tough circumstances the sector is reeling under.
Other factors pushing towards greater adoption of Co-living spaces are the barriers to home ownership in the form of complex loan issuance procedures, higher interest rates, job losses, etc. An aspiring individual is dissuaded from going for ownership and the fitting solution here is Co-living spaces which come with all the requisites of a proper home.
Higher demand for housing due to shortage of supply is also pushing for growth of Co-living spaces, this is more so in metro cities which have been experiencing high rates of urbanisation.
Over the last 12 months the Indian market has witnessed the entry of a few Co-living spaces players especially in the regions of Bangalore, Mumbai and Delhi-NCR areas. Experts believe that the market will only grow as more players and even some big developers move into this segment.
Co-living spaces market is invariably gaining traction in India as more people are opting for a plug-and-play version of accommodation to owning a home. In this age of fast paced living and mobility it has only become imperative for professionals to find options of stay that are more comfortable, flexible and demand less of their time. Co-living spaces fit the description of 'owning' a home without actually owning it and maintaining a home without actually spending time and efforts on maintenance. On the business side of it, Co-living helps developers have better occupancy levels and a resultant higher yield per unit.