Adarsh Astria – A world of your own
March 20th, 2020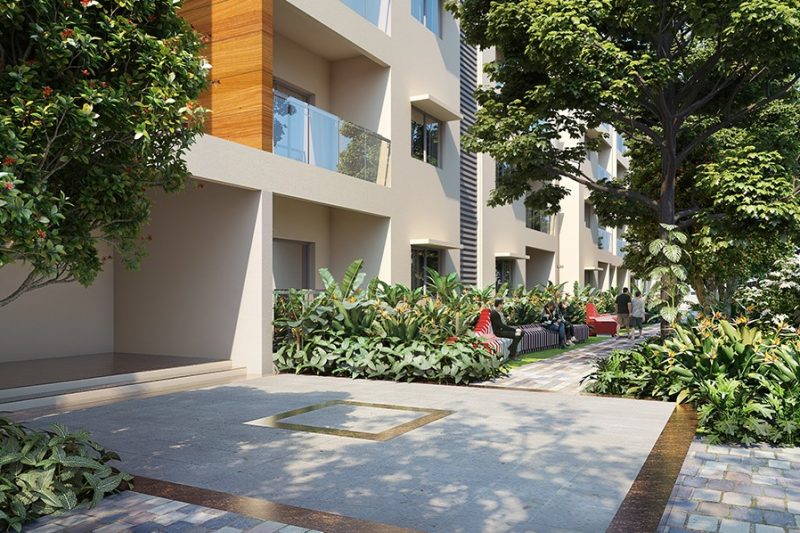 Snippet 1 – A great abode is where your soul could reside. Adarsh Astria is a soulful boutique of residences that have been built by keeping your needs and desires in mind. With this project, Adarsh is making dreams come true.
Adarsh Astria – Making Dreams A Reality
It is everybody's dream to own a house of their own in a serene location, packed with luxury and panache that they can call home. Adarsh Group has stepped-in to turn this dream into a reality. One of their projects is Astria, which is built to provide all the luxurious amenities, which would make these residences a worthy choice. Astria boasts a boutique living of 39 residences comprising 2 and 3 BHK apartments, situated amidst one of the oldest suburbs of Banashankari.
With ample sunlight, open space, and thorough ventilation, you will always remain rejuvenated irrespective of whether you are indoors or outdoors. Incorporating 60% green spaces, Astria boasts an eco-friendly style of architecture, all packed with nature walks, bamboo gardens, party lawns, and more
Location
Astria is located in a peaceful neighborhood of the Outer Ring Road at Banashankari Stage II. The Astria location has been selected, keeping in mind the commuting hours you may want to save so that you can put it into your hobbies and indulge in leisure activities. The location is suitable for families and working men/women because it is well-connected to all necessary landmarks like metro stations, hospitals, educational institutions, and shopping malls.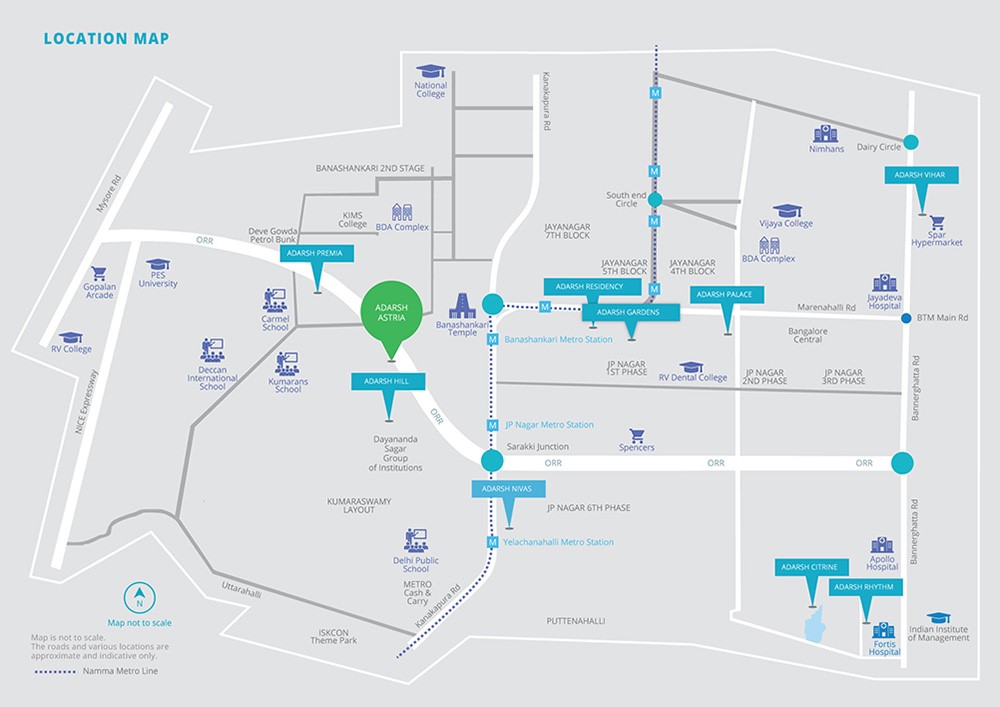 Specifications
Astria is a well-built and safe abode sporting a seismic zone II compliant RCC structure and masonry walls of solid concrete blocks. The inner walls are plastered smooth and rendered with lime, and the outer walls have a sponge finish. Adarsh Astria also supports rain-water harvesting systems based on municipality guidelines.
Amenities
Adarsh Astria comes with the following amenities for all its residents:
Kid's play area, Multiplay court, Jogging tracks, Zen garden for meditation and Yoga, Floral walks, Party lawns, Youth corner, Bamboo garden, Multipurpose hall, Gymnasium, Seating alcove.
Refresh your soul with a nature walk. Celebrate in the party lawns and enjoy the exotic beauty of the bamboo garden. With a gym for the fitness conscious, a multi-play court for the sports fans, a play area for tiny tots and a multipurpose hall for one and all. Let your soul choose what it wants. There is something in Astria for everyone.
The heart is where the home is. And home is where the soul is. Your soul deserves a space to call it's own. Somewhere you can retreat to, and just be you. Someplace you can call home. Homes don't get any more soulful than at Astria by Adarsh